Description
This is the Moddbox universal Exhaust Gas Re-circulation (EGR) extension & cooler tube.  This product purchase includes QTY 1 EGR extension.  This product fits all EGR systems for FORD using the standard M22 fitting. It is constructed of a rigid and bendable stainless tube which allows it to maintain any customized shape. It is designed to add cooling to your EGR system as well as provide flexibility to any customization or relocation of the EGR system that may be required.
Think you need more than a 20″ extension?  Simple… buy two and connect them both together and make a continuous 40″ extension which satisfies even the rarest custom applications.
Inlet:  M22 Thread Swivel
Outlet: M22 Thread Non-swivel
Tube Length: 20″ (between fittings)
Total Length: 22″
Max Temperature:  2000 Degrees F
Material Finish: Raw Stainless
Product listing includes:
QTY 1 EGR extension & cooler lines
QTY 2 galvanized secure clamps
MSRP $29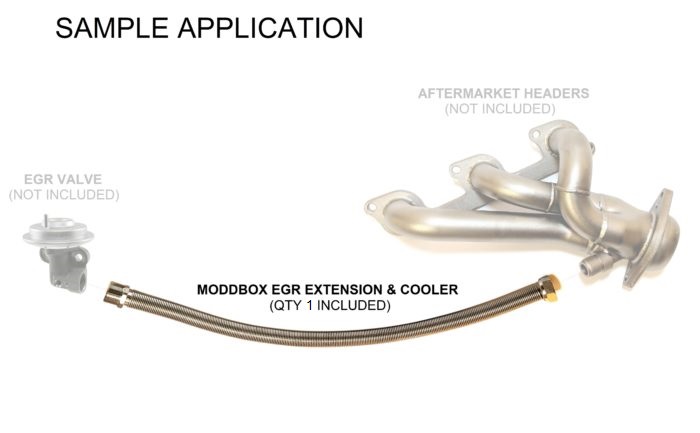 Prices are in USD.  This product ships from Canada.  Canadian customers will be charged taxes based on their local provincial or territorial tax rate.  US customers are not charged tax, but duty and brokerage fees may apply.