Description
This is the ModdBox 255lph Fuel Pump.
Inlet Size:  5/16 in diameter
Outlet Size: 5/16 in diameter
Inlet Attachment Plug: Included
Fuel Strainer: Included
Flow rate to 255 lph (66 gph)
Pressures to 900 kPa (130 psi)
Current: as low as 1.0 amp @ 300 kPa (43 psi) @ 13 volts
Operating temperature: -40°~+155° F
Hot fuel losses as low as 20%
Contamination filter @ < 30 micron
Integral pressure relief valve
Mounting: vertical (outlet on top)
Tested fuel flow @ 13.5 volt supply power – see photo
This electric in-tank fuel pump has been designed to the highest quality standards to provide reliable performance and fuel efficiency for turbo and supercharged applications. This pump has been tested by ModdBox and it has been found to produces more than adequate fuel flow for all future modifications to the 4.oL V6 Cologne supercharger kits.  See our Blog for details on the 255lph In-tank Pump Test.
Warranty:
This product comes with a 1 year unlimited mile warranty.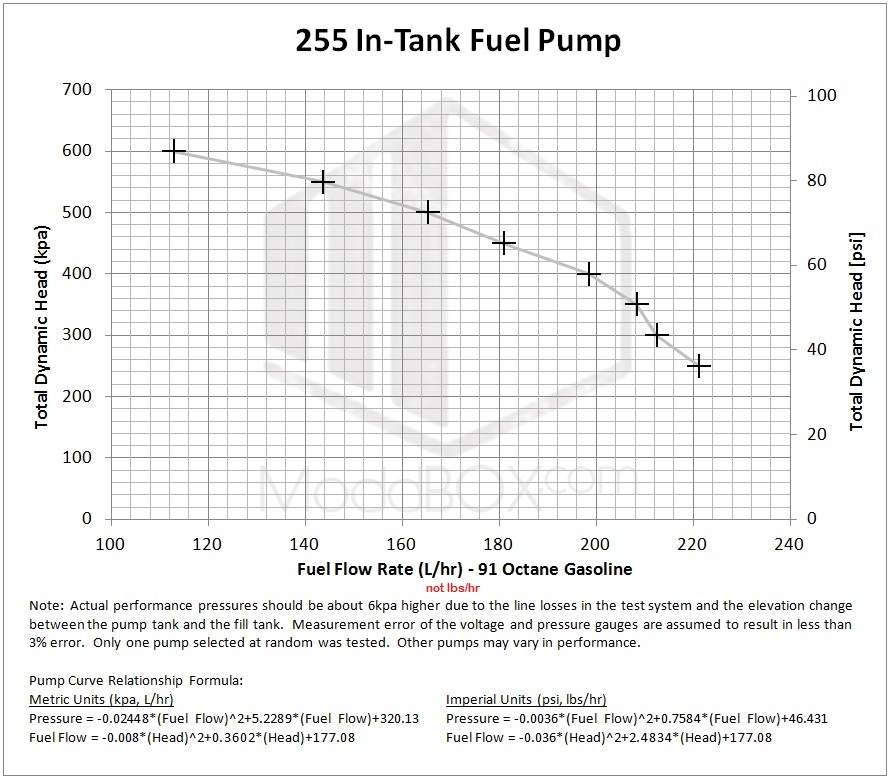 Prices are in USD.  This product ships from Canada.  Canadian customers will be charged taxes based on their local provincial or territorial tax rate.  US customers are not charged tax, but duty and brokerage fees may apply.