INSTALL MANUAL: Gen III & Gen IV 4Dr Explorer/Mountaineer
The following Installation Instructions apply to the 2002-2005 Ford Explorer 4-Door 4.0L SOHC models. CAUTION: This manual is still under construction! Prior to proceeding, confirm that your engine bay looks similar to the following photo: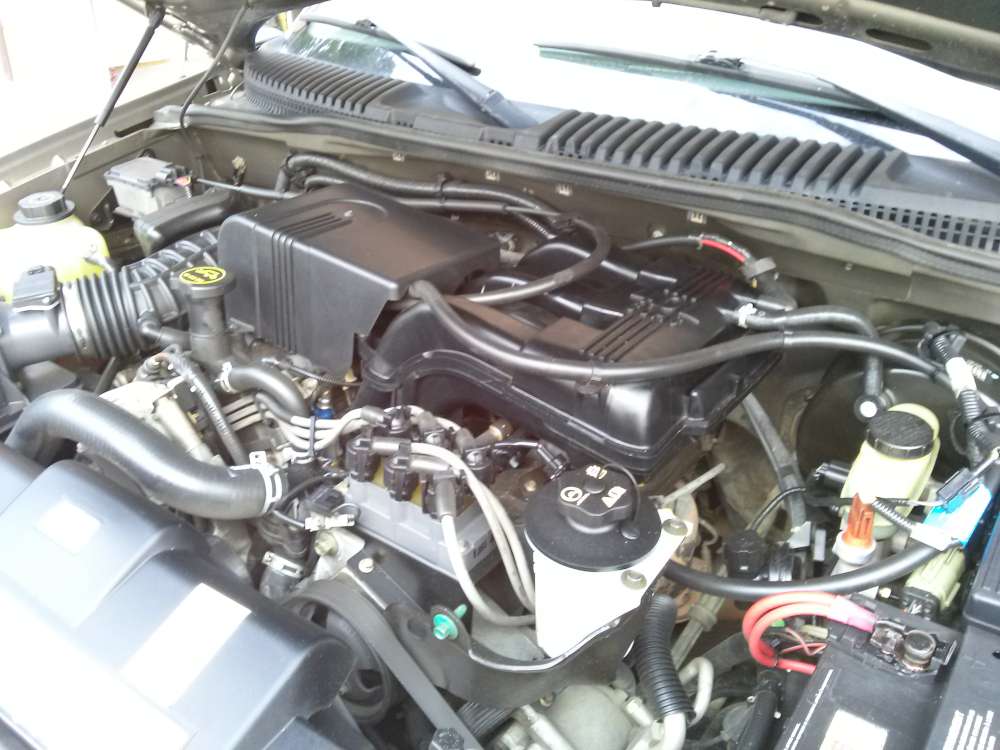 You should read the entire instruction manual prior to proceeding with your installation.
It is important to familiarize yourself with the ModdBox Supercharger Kit installation.  It is the responsibility of the installer to properly install the Supercharger Kit.  To ensure safety and proper installation, ModdBox recommends that this product only be installed by a qualified professional with access to pneumatic tools and a strong familiarity with automotive service procedures.
91 or higher octane gasoline is required at all times.
You must use fuel of 91 octane or higher.  If your vehicle is not currently running 91 or higher octane, you must run your vehicle till empty and refill with the required octane at least 2 times prior to installation.
Any previously installed aftermarket tuning equipment must be removed and the vehicle returned to an as stock condition before installing the supercharger.
Any equipment that directly modifies the fuel mixture or ignition timing of the engine can cause severe engine damage if used in conjunction with the ModdBox Supercharger Kit. This includes, but is not limited to ignition boxes, air/fuel controllers, OBDII programmers, and any other device that modifies signals to and/or from the ECU. Aftermarket bolt-on equipment such as underdrive pulleys may conflict with the operation of the supercharger and must be removed prior to installation. Use of any of these products with the ModdBox Supercharger Kit could result in severe engine damage.
EGR – Exhaust Gas Recirculation
HVAC – Heating Ventilation & Air Conditioning
IAC – Idle Air Control
MAF – Mass Air Flow
TPS – Throttle Position Sensor
Vac – Vacuum
Standard metric socket set
Hex key set
Various pliers
T-30 Torx bit
Fluid funnel
Oil pan
Flat head screw driver
Pneumatic or electric hammer drill
Crescent wrench
Utility knife
Shop vacuum
Rat tail file
Propane torch or similar heating device
… installation manual under construction.  Please contact us for more details.  Refer to the below link for similar procedure:
INSTALL MANUAL: Ranger/B4000, 2Dr Explorer, & GEN1 Sport Trac
Thank you for choosing Moddbox!  We would love to hear how we can make this installation manual better.  If you feel we could improve the installation manual in any way, please let us know by emailing us at [email protected].
Submit your build photos!  We love seeing your builds.  Please submit your Name, State/Province, and some photos of your vehicle and we will add you to our customer build section.